Kansas City Landscaping Firm Creates Water Feature with MO River Driftwood
View as PDF
Print View
Good Earth Outdoor transforms a neglected pond into an exciting and beautiful backyard water feature that incorporates Missouri River driftwood as an additional naturalizing design element along with the water, rocks, and plantings to create a wonderful backyard retreat.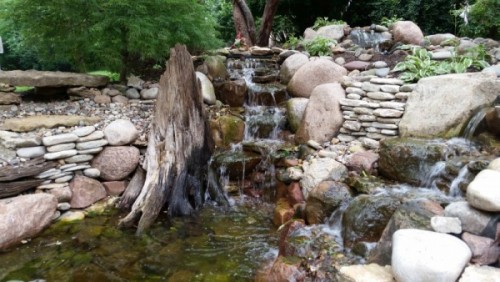 Kansas City, United States - July 1, 2015 /PressCable/ --
Good Earth Outdoor transforms a plain drab poorly functioning pond into a beautiful natural looking paradise while incorporating interesting Missouri River driftwood pieces into the design.
One of the challenges in backyard pond construction is to design the pond, stream, and waterfalls in a way that gives it a very natural look. This water garden in North Kansas City has numerous pieces of driftwood from the Missouri River that gives the impression it has been in place for many years.
Dan Stanza and his business partner/father have been at it for over 10 years and have really mastered the technique. "It's harder than it looks to make something look really good. A project can end up looking like a pile of rocks that was dumped off a truck. It requires a tremendous amount of attention to detail," Dan advises. "We are always looking for ways to emulate nature, and when we found these pieces of driftwood we knew they would make a great addition to the project."
The original pond was full of algae and debris indicating it had not been properly cared for over the years. Aside from the poor quality of the water the waterfall just didn't look interesting or appealing. The water flow was weak and didn't have much of an effect. The new property owners contacted Good Earth Outdoor to help them transform the setting into one they could really get excited about. The overlooking deck offers a great view of the waterfalls. The sound of the water splashing over the rocks fills the air which gives it a very relaxing and peaceful vibration.
The project also has some state of the art maintenance features that help keep the pond water clean and clear free from algae and debris. The Aquascape Ion-Gen system controls string algae which can be a huge maintenance problem. And, an auto-dosing system automatically dispenses just the right amount of bacteria to the water to keep it clear and free from odors.
"Our client was totally thrilled with the end result. It went way beyond their expectations. And while that is pretty common for our projects, we really feel blessed to be able to give our customers this kind of experience," Dan explains.
Here is a video link to the project - https://youtu.be/vGCXqTMURqY. Good Earth Outdoor is a Certified Aquascape Contractor serving the Kansas City metro area. Besides water features they design and install landscapes including plantings, patios, retaining walls, fire pits and fireplaces as well as outdoor lighting. Further information can be found on their website http:goodearthoutdoor.com.
For more information about us, please visit http://goodearthoutdoor.com
Contact Info:
Name: Dan Stanza
Organization: Good Earth Outdoor
Address: 6826 N. Montrose Ave.
Phone: 9137498090
Release ID: 85783
For more information visit r

Recent Press Releases By The Same User
Agarwood Essential Oil Market Expected to Grow at CAGR 4.2% During 2016 to 2022"> (Fri 2nd Jun 17)
Cyber Weapon Market by Type, Product, Application, Region, Outlook and Forecast to 2022 (Fri 2nd Jun 17)
Landscaping and Gardening Expert Trevor McClintock Launches New Locally Optimized Website (Fri 2nd Jun 17)
Sleep apnea devices Market is Evolving At A CAGR of 7.5% by 2022 (Fri 2nd Jun 17)
Agriculture Technology Market 2017 Global Analysis, Opportunities and Forecast to 2022 (Fri 2nd Jun 17)
Global VR Helmet Market by Manufacturers, Technology, Type and Application, Forecast to 2022 (Fri 2nd Jun 17)