Sedona Weddings - Crystal Vortex Wedding Packages Offered at Outdoor Venues
View as PDF
Print View
Sedona Destination Weddings announces the addition of the Sedona Crystal Vortex Ceremony on Sedona's famous vortex sites to their wedding package offerings. Further information can be found at http://www.SedonaDestinationWeddings.com.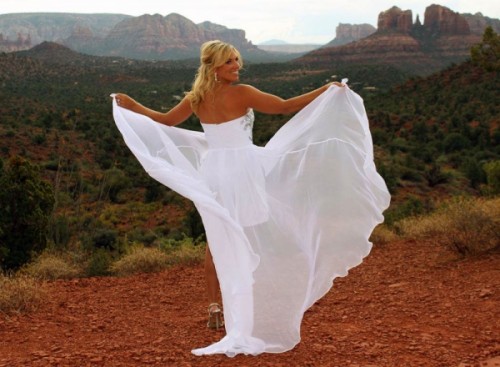 Sedona, AZ, USA - November 10, 2015 /PressCable/ --
Sedona Destination Weddings, a Sedona weddings company, is now offering a New Age ceremony called the Sedona Crystal Vortex wedding to their list of innovative wedding packages. A Sedona Crystal Vortex wedding takes place outside, directly on one of Sedona's powerful vortex sites. The attending officiant uses the energy to uplift and bless the bride and groom on their special day.
Find out more about the Sedona Crystal Vortex wedding here.
The idea for creating the Crystal Vortex wedding package came about after a number of couples requested a spiritual ceremony for their wedding that included Sedona's famous vortex energy. More than 4 million visitors flock to Sedona, Arizona each year to experience its breathtaking beauty, mild climate and vortex sites. The vortexes are described as pools of electromagnetic energy where the earth's ley lines cross, resulting in an intensified whirling action of subtle energy in specific locations. Many Sedona wedding companies offer more traditional ceremonies, but very few offer ceremonies directly on the vortex sites.
"The vortex forever becomes a special place for you and your beloved to return to on anniversaries or your time away together. It becomes a significant place for you to renew and recharge your connection and your vows-a reminder of your sacred union," says founder, Iala Jaggs. Possible ceremony sites on vortexes include Bell Rock, Airport Vortex, Back o' Beyond and Red Rock Crossing.
The Crystal Vortex wedding package includes some unusual features such as an aura cleansing for both bride and groom; a chakra tuning and alignment ceremony; crystals for balancing the energies; and a Hapi drum serenade. More worldly components include a wedding site permit, professional photography, a video keepsake and a non-denominational officiant to perform the ceremony. The package is also available for elopement, vow renewal and commitment ceremonies.
Iala Jaggs is quoted saying: "Sedona delivers the beauty and the magic and we help make the ceremony unique and unforgettable. It's all about bringing a little heaven to earth on your wedding day."
Sedona Destination Weddings has been offering outdoor weddings, elopements, vow renewals and commitment ceremonies on the red rocks and at a number of Sedona's best indoor venues since 2008. They specialize in fully customizable destination wedding packages aimed at eliminating the high cost and high stress associated with most weddings.
To find out more about Sedona Destination Weddings, visit http://www.SedonaDestinationWeddings.com/
To see all their wedding packages, go to: http://www.SedonaDestinationWeddings.com/Sedona-Wedding-Packages/
For more information about us, please visit http://www.SedonaDestinationWeddings.com
Contact Info:
Name: Iala Jaggs
Email: info@sedonadestinationweddings.com
Organization: Sedona Destination Weddings
Address: 267 Coffee Pot Dr, Sedona AZ
Phone: (928) 282-0993
Release ID: 96117
Recent Press Releases By The Same User
Agarwood Essential Oil Market Expected to Grow at CAGR 4.2% During 2016 to 2022"> (Fri 2nd Jun 17)
Cyber Weapon Market by Type, Product, Application, Region, Outlook and Forecast to 2022 (Fri 2nd Jun 17)
Landscaping and Gardening Expert Trevor McClintock Launches New Locally Optimized Website (Fri 2nd Jun 17)
Sleep apnea devices Market is Evolving At A CAGR of 7.5% by 2022 (Fri 2nd Jun 17)
Agriculture Technology Market 2017 Global Analysis, Opportunities and Forecast to 2022 (Fri 2nd Jun 17)
Global VR Helmet Market by Manufacturers, Technology, Type and Application, Forecast to 2022 (Fri 2nd Jun 17)