New Children's Bedtime Fairy Tale Book By Luthie M West Launches Today
View as PDF
Print View
Luthie M West is launching her brand new book, "Cat Soup", available through Amazon targeted at parents of children ages 4 - 6. More information is available at the website: http://www.littlecabbageheadbooks.com/blog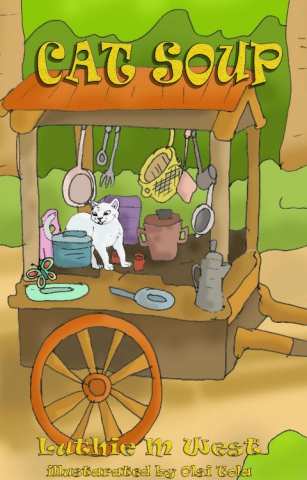 Eugene, United States - March 30, 2017 /PressCable/ --
Grandmother and long-time performance storyteller Luthie M West is launching her brand new book, "Cat Soup". The book is set to go live today, available through Amazon and is expected to become a big hit with parents of children of about 4 - 6 years of age.
More information on the book and an excerpt can be found here: http://www.littlecabbageheadbooks.com/blog
This is the first of a series with two more soon to follow which West has authored. The book was written with the aim in mind to add new fun to story time. There's also particular excitement about this launch because it is the author's first children's picture eBook release. "This is just the beginning. I'll be getting the print versions up within the next month or so. The delay is so I can do all three books of the series in print at once. Meanwhile, each Kindle version will be released independently," West says.
Cat Soup sets its main focus on a prince who goes looking for a missing cat but finds an ogre instead. Readers will likely find a particular funny, fairy tale quality to the book and its double ending. The book's Illustrations were created by Olsi Tola, and Cat Soup is being released by the author as self-published.
Luthie M West has a background in teaching, performing and story telling. This helped shaped the creation of the book.
When asked about why she wrote the book, West said: "My first love is performing as an actor, as a singer and as a storyteller. I've told countless stories, many created on the spur of the moment, at parties and events for children and adults. Writing them down lets me share them with children and their families all over the world."
West has hopes that the book will pass on the joy of sharing good stories and the bonds they create between parents and their children. This positive outlook from the author is certainly testament to her enthusiasm and determination for its creation. West, who is also an accomplished artist, felt challenged from the start. "When I first decided to write a picture book, I thought I'd do the whole thing myself, but I had to let go of that idea fast if I ever wanted the book to be finished. It was just more art than I'm used to doing."
In a recent interview, the author made a point of thanking Olsi Tola for his illustrations and cover art, saying: "Olsi is an incredible artist, and fast. I couldn't have done it without him. I'm so grateful. I'd also like to thank Jason Chessar, my life coach, for helping me stay on track."
Those interested in learning more about the book can visit here: http://www.littlecabbageheadbooks.com/blog
Contact Info:
Name: Luthie M West
Organization: Little Cabbagehead Books
Address: 2108 Ohio St., Eugene, Oregon 97402, United States

For more information, please visit http://www.littlecabbageheadbooks.com
Source: PressCable
Release ID: 181442
Recent Press Releases By The Same User
Agarwood Essential Oil Market Expected to Grow at CAGR 4.2% During 2016 to 2022 (Fri 2nd Jun 17)
Cyber Weapon Market by Type, Product, Application, Region, Outlook and Forecast to 2022 (Fri 2nd Jun 17)
Landscaping and Gardening Expert Trevor McClintock Launches New Locally Optimized Website (Fri 2nd Jun 17)
Sleep apnea devices Market is Evolving At A CAGR of 7.5% by 2022 (Fri 2nd Jun 17)
Agriculture Technology Market 2017 Global Analysis, Opportunities and Forecast to 2022 (Fri 2nd Jun 17)
Global VR Helmet Market by Manufacturers, Technology, Type and Application, Forecast to 2022 (Fri 2nd Jun 17)