Las Vegas ATV Desert Tours With Eldorado Canyon & Gold Mine Adventures Announced
View as PDF
Print View
The Awesome Adventures Inc. announced its unique and exciting Eldorado Canyon ATV/UTV tours, available at 800-519-2243, providing outdoors enthusiasts with an original desert adventure opportunity including an ATV/UTV tour of mountainous trails and a historic mine with picnic lunch and professional guides.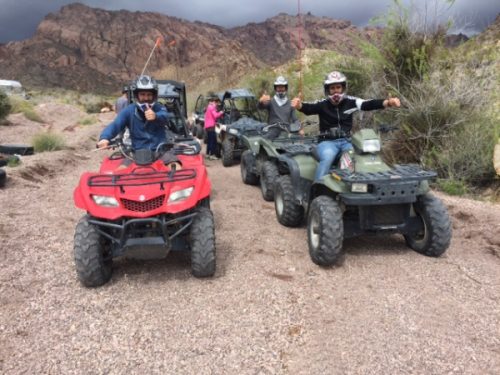 Las Vegas, United States - December 14, 2016 /PressCable/ --
The highly popular Awesome Adventures Inc. announced its leading Eldorado Canyon ATV/UTV tours providing unique and exciting desert adventure opportunities exploring the historic and famous gold mines, trails and views of the Eldorado Canyon with professional guides.
More information is available at http://awesomeadventures.com/las-vegas-atv-tour-eldorado-canyon-gold-mine.
The Awesome Adventures Inc. is an acclaimed and leading provider of unique, exciting tours and activities with an established reputation for delivering the best outdoors adventure experiences for true outdoors enthusiasts and families or corporate groups and celebrities with its range of ATV or helicopter and river tours and kayaking, rafting, rappelling or rope courses and ziplines.
The popular business has announced its Eldorado Canyon ATV/UTV tours running daily throughout the year, ideal for those looking for an exciting, fun and unique desert adventure opportunity exploring the historic and famous Wild West trails, mines and scenery of the Eldorado Canyon, located about 45 minutes from Las Vegas and Hoover Dam.
The Eldorado Canyon ATV/UTV Tour includes a walking tour of the historic Techatticup Gold Mine, which was once the largest producing Gold Mine in Southern Nevada, combined with an ATV/UTV tour through the area's mountainous and historical trails with unique views along with a picnic lunch, passionate and professional guides and round trip transportation from the customers' Las Vegas hotel.
More information on the Awesome Adventures Inc. and its Eldorado Canyon ATV/UTV tours or the broad range of adventures available, from river trips to custom events for groups or corporate teams, in the Utah and Las Vegas areas can be requested or booked at 800-519-2243 and through the website link provided above along with multiple client testimonials and details on its special discount promotions.
The Awesome Adventures Inc. team explains that "we operate under the philosophy of 'live the adventure, love the adventure' and we believe that by providing our clients with the best and most exciting outdoor adventures, we are making their lives just a little bit happier. Our tours combine excitement and unique adventure opportunities with guides who love their jobs, love the outdoors and are always happy to share their enthusiasm with the guests."
For more information, please visit http://awesomeadventures.com/las-vegas-atv-tour-eldorado-canyon/
Contact Info:
Name: Christine Ward
Organization: Awesome Adventures Inc.
Address: 6703 VILLA BONITA RD, Las Vegas United States
Phone: 800-519-2243
Release ID: 154377
Recent Press Releases By The Same User
Agarwood Essential Oil Market Expected to Grow at CAGR 4.2% During 2016 to 2022 (Fri 2nd Jun 17)
Cyber Weapon Market by Type, Product, Application, Region, Outlook and Forecast to 2022 (Fri 2nd Jun 17)
Landscaping and Gardening Expert Trevor McClintock Launches New Locally Optimized Website (Fri 2nd Jun 17)
Sleep apnea devices Market is Evolving At A CAGR of 7.5% by 2022 (Fri 2nd Jun 17)
Agriculture Technology Market 2017 Global Analysis, Opportunities and Forecast to 2022 (Fri 2nd Jun 17)
Global VR Helmet Market by Manufacturers, Technology, Type and Application, Forecast to 2022 (Fri 2nd Jun 17)